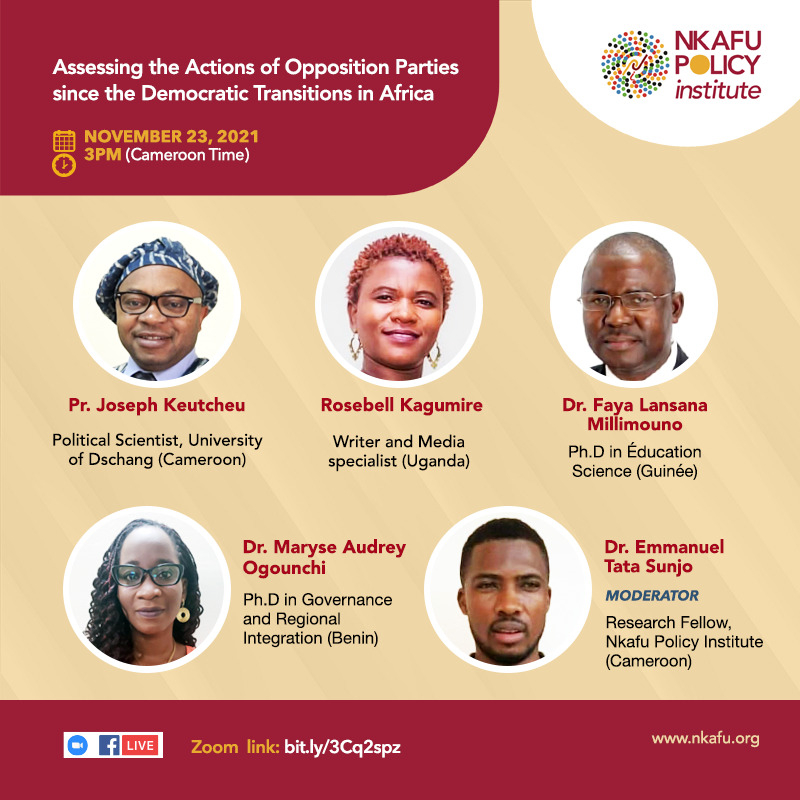 Assessing the Actions of Opposition Parties since the Democratic Transitions in Africa
Assessing the Actions of Opposition Parties since the Democratic Transitions in Africa
Tuesday November 23, 2020, 3pm-4.30pm via Zoom (Register Now)
 Context
With the democratic transitions of the 1990s, multiparty politics was established as an essential component of democracy in Africa. Some political parties newly created during this period and constituted as opposition have succeeded in destabilising the dictatorships entrenched since independence. In total, thirty-two (32) victories of the partisan opposition were recorded in nineteen (19) African countries. In countries where there has been no changeover at the top of the state, the opposition has had a strong influence on the powers that be. This is the case, for example, in Cameroon with the Social Democratic Front (SDF), which has been the main opposition party for several years. This no less commendable past of the African opposition in the consolidation of the democratic process in Africa seems to be in contrast with its observable lethargy today. In fact, the political opposition seems to be losing momentum while the democracy of which it is one of the guarantors is withering away as a result of the test of "perpetual governments" and coups d'état. The factors of this degeneration of the opposition are multiple: organisational weakness; pre-eminence of individualistic interests over national interests; leadership syndrome; inexistence or scarcity of political programmes; collusion with the party in power; messy coalitions, etc. All these failures call into question the very existence of the opposition. All these failures call into question the role and the record of the opposition in the construction of democracy in Africa.
Objective of the dialogue
The objective of this public dialogue is to discuss the dynamics of the opposition in Africa from democratic transitions to the present day, to assess its successes, to question its failures, and to put its challenges into perspective in the face of the democratic peril in which Africa seems to be caught up.
Participants
This public dialogue is organised by the Governance and Democracy Division of the Nkafu Policy Institute Think Tank. It is open to all without restriction, including experts, political and economic entrepreneurs, national and international civil society organisations, academics, students and citizens.
Panelists
– Ms. Rosebell Kagumire, Communication consultant, (Ouganda)
– Dr Maryse Ogounchi, Ph.D in political science, Lecturer (Benin)
– Dr. Noël Sofack, Ph.D in geopolitics, Rector of the Catholic Institute of Bafoussam (Cameroun)
– Dr Mady Ibrahim Kanté, Fellow in the Institute of Timbuktu (Mali)
Moderator
For more information, please write to us at info@foretiafoundation.org Pour plus d'informations, merci de nous écrire à l'adresse info@foretiafoundation.org ou contacter le numéro Tél: (+237) 22 31 15 84 / 653 78 25 81 / 698 64 55 24.