Theme : Human Security and Strategic Peacebuilding for Sustainable Development in Africa
Onsite | Djeuga Palace Hotel

Online | Zoom platform
June 21, 2023

09:00am - 17:00pm GMT+1
Choose how you want to attend the forum
The global incidence of violent conflicts and insecurity is considered one of the most urgent development problems in the world today.  In theory, most people and institutions around the world welcome and support the vision of security and a violent free world for sustainable peace and sustainable development. Sadly, however, it remains elusive, especially in many parts of Africa that are still inundated with problems of security, violent conflicts, and wars. Cycles of the financial crisis, pandemics such as COVID-19, natural disasters, enduring and escalating violent conflicts and wars, terrorism, injustice, food insecurity, have not only brought havoc to the peace and security of nation-states but have resulted in disastrous consequences for the survival, well-being, and dignity of individuals across national boundaries in Africa and beyond.
The event targets :
– Peace and security experts,
– Policymakers,
– Academics,
– Researchers,
– International organizations,
– Regional bodies including the UN
– The AU and the RECs as well as members of civil society.
Choose how you want to attend the forum
Themes of the panel discussions and debate
High Level Panel Discussion (Hybrid session):

The deficits of a purely militaristic approach to security and the need to promote the Human Security approach for Sustainable Peace in Africa.

Session 1 (Hybrid session)

The contribution of health and environmental security in promoting peace and sustainable development in Africa.

Session 2 (Hybrid session)

Assessing the role of political, economic security and traditional methods of conflict resolution in enhancing peacebuilding in Africa.

Session 3 (Hybrid session)

Human-centred Security versus State-centred security in Africa.

Public Debate: (Hybrid session)

Women and Youth can Influence Decision-making to Mitigate Contemporary Threats to Peace and Security in Africa. Ambition or Reality?
The main objective of this Nkafu-Africa Forum is to discuss strategies to advocate and promote the investment in human security and strategic peacebuilding for sustainable peace and development in Africa.
High Level Panel Discussion (Hybrid session):
Prof. Jean-Emmanuel Pondi
Professor Jean-Emmanuel Pondi is a distinguished full Professor of Political Science and International Relations. He is the Vice-Chancellor of The ICT University, Cameroon. Before his appointment, Prof. Pondi has served under different positions within and outside Cameroon. Some of his appointments include: the Director of IRIC, the Secretary General of the University of Yaoundé II, Secretary-General of the University of Yaounde I. Vice-Rector of the University of Yaounde I, Chevening Scholar at Cambridge University, Chief of Services of National and International Cooperation in the University of Yaoundé and Holder of the Léopold Sédar Senghor professorship of Cameroon
Kemi Okenyodo
Kemi Okenyodo, Founder/Executive Director, Rule of Law and Empowerment Initiative also known as Partners West Africa Nigeria has over twenty years of experience in security, governance, criminal justice reform and NGO management in Nigeria and West Africa. She presently provides strategic and operational leadership for the organization with the support of a vibrant Board and team.
She has expertise in the security governance and criminal justice sector with a special emphasis on police accountability, inclusive governance, citizens and security institutions' engagement. She has engaged in several works geared toward the evolution of non-state actors and their contributions to improving public safety and security; policing and gender issues, as well as, election security management. She is well experienced in project management, fundraising, stakeholder management, networking, team-building and innovative leadership. She has led and provided support to different international reform programs focused on security, governance, public safety and criminal justice reform.
Prof. Daniel Abwa
Renowned Cameroonian historian and academic, experienced and outstanding teacher, author of several published books and scientific articles, Professor Daniel ABWA is President of the Cameroonian History Society (CHS). He was :
- Head of the Department of History at the University of Yaoundé I
- Dean of the Faculty of Arts, Letters and Human Sciences at the University of Yaoundé I
- Director of Academic Affairs and Cooperation at the University of Yaoundé I
- Vice-Rector in charge of teaching, professionalization and development of information and communication technologies of the University of Yaounde I
- Secretary General of the University of Yaoundé I.
Since August 1, 2019, he is Dean of the Faculty of Social Sciences and International Relations of the Protestant University of Central Africa (UPAC).
Dr. Emmaculate Asige
Francis Tazoacha
Francis Tazoacha  is an Analyst and the Director of Peace and Security division at the Nkafu Policy Institute. He has a Master's Degree in Natural Resources and Peace from the United Nations University for Peace in San Jose, Costa Rica. His areas of expertise ranges from Peace-building, Conflict Resolution, Governance and Democracy, particularly on matters around research, policy development, knowledge management and post conflict peace building and reconstruction. Francis has extensive research skills, with a background in training and education with knowledge of and competence in program development and management. His skills set include proposal writing; a background in fundraising; strategic planning; and designing and monitoring projects.
Session 1 (Hybrid session)
Ms. Katongole Hadijjah
Katongole Hadijah is an Assistant lecturer in the Biological and Environmental Sciences Department at the School of Engineering and Applied Sciences at Kampala International University, Uganda where her responsibilities include; Preparing notes and organizing materials for lectures and liaising with the head of the department and other colleagues to draw the time table and course outlines, conducting lectures, preparing course work questions, setting exams marking and awarding marks accordingly, moderating exams, supervising students research projects and supervising students on internship outside the university. Besides this, she has also been a Teaching and Tutorial Assistant respectively and as such has tremendous experience in Academia.
She holds a Master of Science in Environment Management and Development and a Bachelor of Science in Environment Management both of which she attained from Kampala International University, additionally she holds a Post Graduate Diploma in Management and Teaching at Higher Education.
Dr. Albert Ze
Albert Ze is a researcher and native of Ebolowa (South region of Cameroon). He holds a PhD in Economics, Mathematics and Econometrics, specializing in Health Economics (summa cum laude) since 2011. Albert is the founder of the Institute of Research for Health and Development (IRESADE) founded in 2010 and based in Yaoundé. 
Albert Ze's research interests include health economics, sustainable development, access to land, agricultural economics, risk management, resilience of complex systems and health policy. He was the recipient of the 2019 African Prize for Excellence which he received in Côte d'Ivoire on October 5, 2019. Hosted in Côte d'Ivoire by the Scientific Committee of the African Super Prize for Excellence (SPADE), he honored Cameroon by receiving the distinction of "Best Health Researcher for Development 2019".He is also the author of 6 books in the scientific field and 13 presentations at conferences and seminars in institutions of reference such as the World Bank and several ministries in his country 
Mr. Oluwole O. Akiyode
Oluwole O. Akiyode is the current Head of the Department of Biological and Environmental Sciences and a lecturer of Environmental Management in the same department at Kampala International University, Kampala, Uganda. 
 He has a Bachelor of Technology (B.Tech) in Biochemistry from the Federal University of Technology, Akure, Nigeria, a Master in Environmental Management (MEM) from the University of Lagos, Akoka, Nigeria, and a Master of Arts (MA) in Environmental Security and Peace from the University for Peace (UN-Mandated), San Jose, Costa Rica. He is currently on his Ph.D. at the Geography Department of Kwazulu-Natal University, Durban, South Africa. His research works are multi and interdisciplinary relating issues of the environment to sustainable development.
He has publications in international journals, presented papers at international conferences on issues that included climate change, water security, urbanization, environmental security, and sustainable development.
With all his strong foundation and vast experience in the field of Environmental Management, he is in the right position to guide and shape the minds of the future as well as create sustainable solutions for a better, Uganda, Africa, and the world at large here at KIU where we continue to explore the heights!
ABOUDI Vanessa
ABOUDI Vanessa est Doctorante en Science Politique à l'Université de Yaoundé II, où elle a respectivement obtenu une Licence en Socio-anthropologie et Communication Politique et un Master en Science Politique. Particulièrement intéressée par les Etudes de Genre et Gouvernance, elle mène également des recherches sur d'autres thématiques dans le strict respect de la multidisciplinarité qui caractérise les sciences sociales. Avant d'intégrer la Fondation comme Assistante de Recherche au Nkafu Policy Institute, ABOUDI Vanessa a entre autres occupé les fonctions d'Assistante de recherche au Centre Africain de Recherche en Sciences Morales et Politiques (CARES) et de Chercheure au Centre de Développement de Bonnes Pratiques en Santé (CDBPS-H)
Session 2 (Hybrid session)
Dr. Redie Bereketeab
Redie Bereketeab, PhD, is an associate professor of sociology. Currently, he works as senior researcher at the Nordic Africa Institute, Uppsala, Sweden with research project Conflict and State Building in the Horn of Africa.  He has published articles in the following journals: African Studies, African Studies Review, African and Asian Studies, Studies in Ethnicity and Nationalism, African Journal of International Affairs, and South African Journal of International Affairs. His recent books include  Historical Sociology of State Formation in the Horn of Africa (Palgrave Macmillan, 2023), Recent Developments in Peace and Security in the Horn of Africa (Cambridge Scholars Publishing, 2023),  Self-Determination and Secession in Africa: The Postcolonial State (Routledge, 2016), National Liberation Movements as Government in Africa (Routledge, 2019), and Alternatives to Neoliberal Peacebuilding and Statebuilding in Africa (2021, Routledge). His recently published articles include "State Legitimacy and Government Performance in the Horn of Africa," African Studies, 2020, and "Education as an Instrument of Nation-Building in Post-Colonial Africa," Studies in Ethnicity and Nationalism, 2020, 'Peacebuilding in Africa: Popular Progressive Versus Neoliberal Peacebuilding' (2021, Routledge). His research interests span the fields of political sociology, development sociology, and African studies, and include state building, nation building, identity, nationalism, conflict, peacebuilding, and development. 

Dr. Dawn Isabel Nagar
Dr Dawn Isabel Nagar, holds a Doctorate of Philosophy in International Relations from the University of the Witwatersrand (WITS), Johannesburg; and obtained two Masters degrees in Politics and International Relations from the University of Cape Town (UCT); and in Philosophy: Conflict and Conflict Management from the University of Port Elizabeth (now known as the University of Nelson Mandela). She is currently Academic Specialist at the University of Johannesburg's (UJ) Development Office and Finance Division, South Africa. She is author of numerous book chapters, journal articles and book volumes including three edited volumes and two single-authored books on: Africa's region–building efforts, bilateral and multilateral relations with fields of concentration of: the African Continental Free Trade Area, which discusses endogenous economic growth models within a Fourth Industrial Revolution Area (4IR). Dr Nagar's most recent book of 2022 focuses on Challenging the United Nations Peace and Security Agenda in Africa published by Palgrave Macmillan and Springer Nature, New York, and Switzerland respectively.
Dr. Adeoye O. Akinola
Dr Adeoye O. Akinola is a Senior Researcher at the Institute for Pan-African Thought and Conversation in the Faculty of Humanities at the University of Johannesburg. He obtained a doctorate in Political Science from the University of KwaZulu-Natal (UKZN) in South Africa. He was a Lecturer at Obafemi Awolowo University (OAU) in Nigeria, a Post-Doctoral Fellow at UKZN and the University of Zululand, and a Visiting Professor at the United Nations University for Peace (UPEACE) Africa Programme in Addis Ababa. 

Dr. Gabriel Malebang
Dr. Vera Kum
Dr Fuein Vera Kum is a Research Fellow at the Economic Affairs division of the Nkafu Policy Institute. Since 2017, she has been working as an Economic Policy Analyst with the Institute. Her research interests focus on Health Economics and development policy. She has a passion for research and knowledge dissemination.
She equally serves as a Lecturer at the Faculty of Economics and Management Sciences of the University of Bamenda in Cameroon. Dr. Kum holds a Ph.D. in Economics from the University of Benin, Nigeria.
Session 3 (Hybrid session)
ACP Damas GATARE
ACP Damas GATARE is currently the Director of Operations and Programs at the Regional Centre on Small Arms in the Great Lakes Region, Horn of Africa and Neighboring States (RECSA) based in Nairobi, Kenya. 
He previously served in various capacities back home in Rwanda in both the Rwanda Patriotic Army/Rwanda Defense Force (RPA/RDF) and later in the Rwanda National Police (RNP) since 2000, accumulating a wealth of experience of over 35 years. 
He attended the Police Senior Command and Staff Course at the National Police College, Musanze, Rwanda, 2012 – 2013 and holds a Master's Degree in Peace Studies and Conflict Transformation from the University of Rwanda. 
ACP Damas GATARE participated in the African Union (AU) and United Nations (UN) Peace Support Operations particularly in the African Union Mission in Sudan, Darfur, AMIS (2005 – 2007); and in the United Nations Multidimensional Integrated Stabilization Mission in the Central African Republic (MINUSCA) in Bangui, (2018 – 2019) where the Rwanda CIVPOL Contingent and Rwanda Formed Police Unit (FPU) Commander respectively. 
He has held various key leadership posts in the Rwanda National Police (RNP) since 2000 that includes among others, Commissioner for Community Policing, Public Relations and Media; Police Spokesperson, Director of Disaster Management Unit, Deputy Commandant of Police Training School, Gishari; Principal Gishari Integrated Polytechnique College (IPRC); Commander of RNP Reserve Force; and Commandant of Police General Headquarters. 
Dr. Marcelle Alley Nagar
Dr Marcelle Alley
Nagar
Dr. Khaled Menna
Dr Moulaye Hassane
Dr Moulaye Hassane occupe la position de chef de programme de Prévention de la Radication et de Lute Contre l'Extrémisme Violent au Centre National d'Etudes Stratégique et de Sécurité (CNESS) du Niger. Dans cette mission, il a contribué à la réalisation de nombreuses études dans le domaine sécuritaire et comme coordonateur à l'élaboration de la Stratégie Nationale de Prévention de la Radicalisation et de Lutte Contre l'Extrémisme Violent de la République du Niger. Parallèlement, il travaille comme chercheur et enseignant à l'université Abdou Moumouni de Niamey, aussi comme Conseiller Spécial au Cabinet du Premier Ministre de la République du Niger et il fut comme Ambassadeur du Niger au Royaume d'Arabie Saoudite.
A part les manuscrits anciens dans le domaine du patrimoine islamique, Dr Moulaye Hassane est spécialisé en histoire et dynamique des pratiques de l'Islam au Sahel. Il a obtenu son doctorat en Etudes Arabes et oriental à l'Université de Paris IV Sorbonne en 1995.
Joe Tiemonchu
Senior Journalist CRTV
Yaounde, Cameroon
Public Debate: (Hybrid session)
Prof. WILIBROAD DZE-NGWA
WILLIBROAD DZE-NGWA is a Full Professor in Political History and International Relations at the University system of Cameroon and permanent faculty of the University of Yaounde I. He is a field soldier in peace-building, peace education, conflict transformation, trauma healing, humanitarian action, and trust-based social reseach in areas of conflict and divided societies. He has been involved in the training of senior administrattors in the management of terrorism and violent extremism. He has served as consultant with the UN-IOM Cameroon office on the Disarment, Demobilisation, and Reintgration (DDR) process in the Boko Haram-affected Far North Region of Cameroon. Professor Dze-Ngwa is currently a senior Fellow with the Global Center on Cooperative Security with the training in the Management of Small and Light Weapons in the DDR context.
He has received several awards and got international experience. In 2008, he received the ERNWACA small Grant for Peace and Citizenship  education. In 2010, he received the US State Department SUSI Awards to study political science at the Donahue institute, University of Massachusetts, Amherst. In 2011, he received the prestigious Fulbright Scholar-in-Residence Award which enable him to lecture and develop a Bachelor's Degree Program in International Studies AT THE Departmt of Political Science and Public Administration, Savanah State Universitu, Geogia (USA). Prof DZE-NGWA also received the Fulbrigth Occasional Lecture Fund and got other opportunities to present papers at Ithaca college (New York), Abraham Baldwin Agricultural college (Tifton Gergia), Kennesaw State University (Georgia), Shippensburg University (Pennsylvania), Trident Technical College and State University (Milledgeville, Georgia). He has also lectured with the School for International Training (SIT).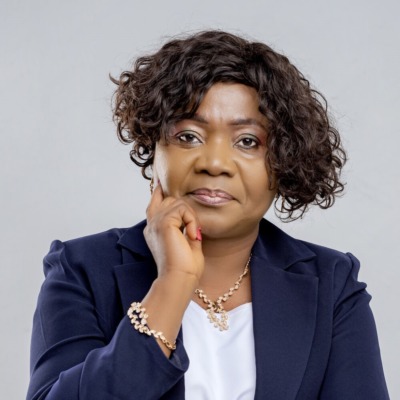 Ms. Sylvie J. Ndongmo
Sylvie Jacqueline Ndongmo est une femme engagée depuis 25 années dans la lutte contre les discriminations et violences faites aux femmes et aux personnes vulnérables et dans la préservation de la paix. Après un poste de présidente de la Ligue Internationale des Femmes pour la Paix et la Liberté section du Cameroun (WILPF Cameroon) ensuite Représentante de WILPF pour l'Afrique, elle est aujourd'hui Présidente de WILPF INTERNATIONAL.
Pour elle, aucune paix durable ne peut se construire sans les actrices stratégiques que sont les femmes.
Ms Yaah Gladys Shang Viban
Yaah Gladys Shang Viban is a thematic speaker on cross-cutting issues at national, regional and international levels. She currently serves on the Board of Directors of several faith based and civil society organizations that promote transformational leadership; with specific attention on engendering gender, enhancing governance and democratic processes, peace and security, and countering violent extremism
Osei Baffour Frimpong
Aude Cuzon Gatcho
Aude Cuzon Gatcho settled in Cameroon over ten years ago, and has worked there extensively in the field of governance, decentralization and local development. Today, she coordinates the GIZ Civil Peace Service in Cameroon, a program with three major objectives: dialogue and cooperation within civil society, civic engagement of young people, and building resilience through psycho-social support.
Antem Anthony
Antem Anthony is a research associate in peace & security at the Foretia Foundation. Prior to joining the Foundation, he served as conflict, policy and security assistant at the International Crisis Group, Kenya. He has equally served as political and communications intern at the Foreign, Commonwealth and Development Office/British High Commission in Yaoundé. Added to these, He has served as policy analyst for African Affairs at the African Online and Publications Library (AOPL).
Anthony is a certified administrative and operations professional from the United Nations University for Peace and the Pan African Institute for Development, West Africa (PAID-WA). He is currently finalizing a Professional Master's Degree in International Relations/Disputes from the International Relations Institute of Cameroon (IRIC). He holds a Bachelor's Degree in Public Administration and Law from the University of Yaoundé II, Soa.
June 21, 2023

09:00am - 17:00pm GMT+1
Onsite | Djeuga Palace Hotel

Online | Zoom platform
Choose how you want to attend the forum