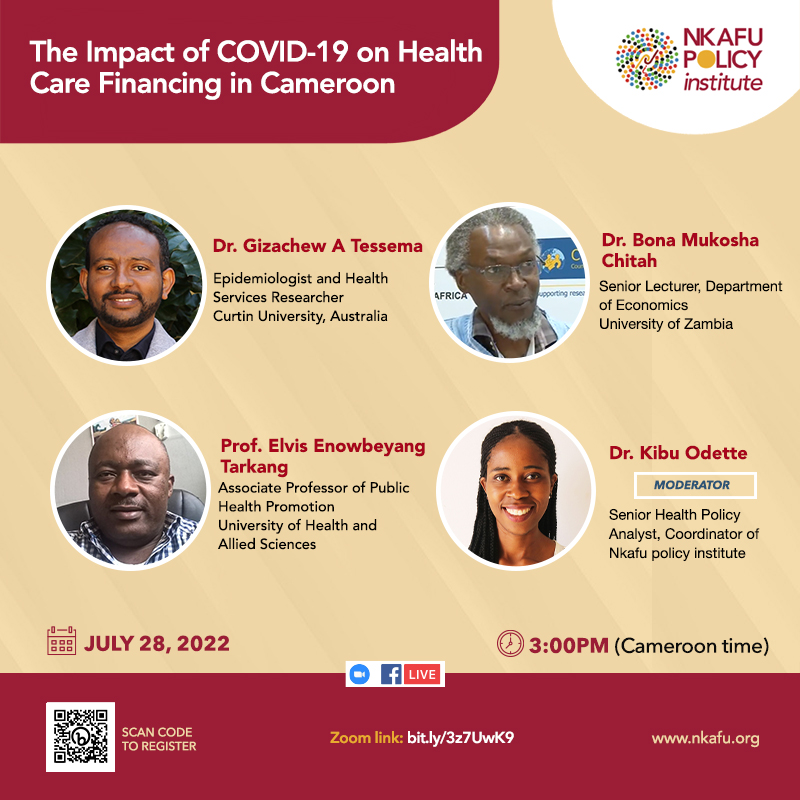 The Impact of COVID-19 on Health Care Financing in Cameroon
The Impact of COVID-19 on Health Care Financing in Cameroon
July 28, 2022, 3:00 – 4:30pm (Cameroon time) via Zoom Platform (Register Now)
Background
As COVID-19 pandemic continues to spread across the globe, Cameroon keeps facing challenges in mobilizing and aligning its fragmented health system to address the emergency. The COVID-19 pandemic has been labelled as the greatest pandemic that has affected hospital and health systems around the globe. In Cameroon, the first case was detected in Yaoundé on March 6, 2020 and by May 31st, 2022, 119,947 cases were reported with 1,930 deaths. Every facet of the Cameroon's economy has been severely affected, especially healthcare access, utilization, and financing.
Cameroon has a pluralistic healthcare system characterized by multiple sources of healthcare financing, including the state, households (through out-of-pocket payments), external funding, faith-based organizations, NGOs and private health insurance. There is a considerable disproportion between these different funding sources as households essentially bear the burden of healthcare financing in Cameroon. The COVID-19 pandemic has highlighted the structural weaknesses of the country's health system and its economy, particularly the low human and financial resources allocated to this sector.
With the increasing incidence of COVID-19, would the already existing catastrophic expenditure on household to finance health care worsen? What strategies can the Cameroonian health system implement to finance health care amid the COVID-19 pandemic? These are some of the questions that this panel discussion seeks to address.
2. Objectives
To analyze the impact of COVID-19 on health care financing in Cameroon and to discuss strategies that will help improve health care financing and accountability in the country to build a resilient healthcare system
3. Expected outcome
Increased awareness of the impact of COVID-19 on health care financing in Cameroon
Ways to improve health care financing amid the COVID-19 pandemic context are explored.
4. Target Audience
Health economists, public health researchers, civil society organizations, health care provider, private health insurance companies, policy makers and the public.
Panelists:
Dr. Gizachew A Tessema
Epidemiologist and health care services researcher
Dr. Bona M Chitah
Economist, University of Zambia
Prof. Elvis Enowbeyang Tarkang
Associate Professor of Public Health Promotion
University of Health and Allied Sciences
Moderator:
Dr. Odette Kibu, Senior Health Researcher