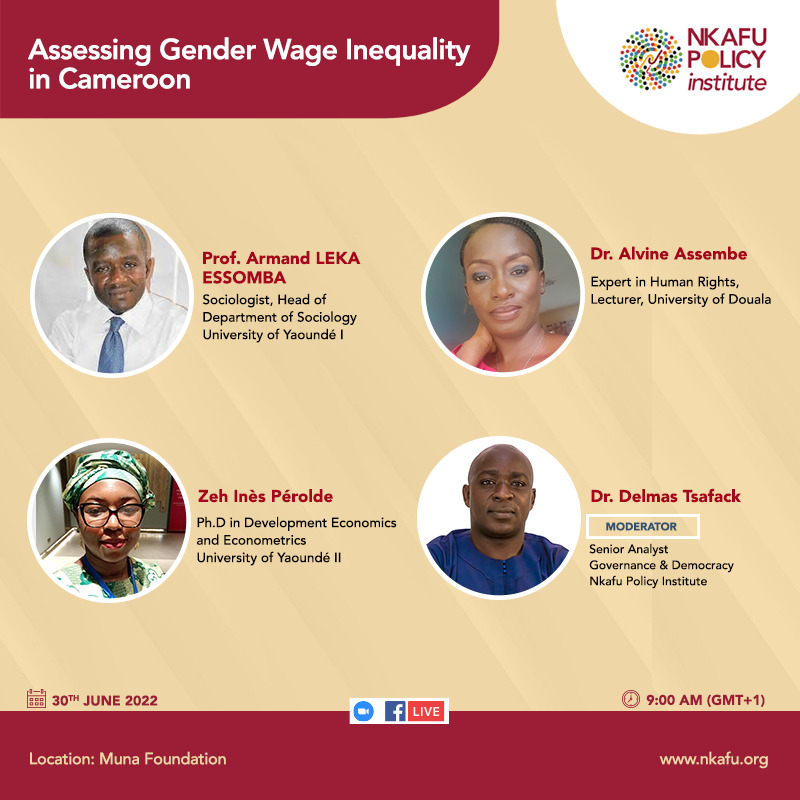 Assessing Gender Wage Inequality in Cameroon
PROMOTING WOMEN'S ECONOMIC RIGHTS IN CAMEROON (WERC PROJECT)
"Assessing Gender Wage Inequality in Cameroon"
8th panel discussion
30 June 2022 – 09am / Muna Foundation & Online
(Register Now – Online Participation)       (Register Now – Onsite Participation)
Context
The issue of wage distribution has always aroused particular interest in public and academic debates. It is at the heart of development policies of the United Nations and Conventions of the International Labour Organization (ILO) almost a century ago. Gender inequalities remain a labor market concern in Africa. According to a World Bank study, the employment-to-population ratio of women in sub-Saharan Africa is 25% lower than that of men. In Cameroon, the economic situation and the demographic weight have inevitably led to a de-structuring of the labor market. According to an ILO study, men in the formal sector in Cameroon have a wage premium that varies between 18% and 21% compared to women in the same sector. These wage premiums for men range from 30% to 42% when in the formal sector. Since the 1980s, Cameroon has undergone several transitions in its development that have affected gender wage gaps. The reforms undertaken in the different phases of Cameroon's development transition have not only affected the structure of the labor market, but also affected men and women differently. Wage inequalities disproportionately affect women in a context where gender differences in occupations and industries remain significant. In this context, it is important to examine the dynamics of the gender pay gap, while looking for the causes of its evolution and analyzing this at different levels of the wage distribution. It is against this backdrop that the Nkafu Policy Institute of the Denis and Lenora Foretia Foundation is organizing a panel discussion on the theme: "Assessing Gender Wage Inequality in Cameroon".
Objective
The objective of this panel discussion is to examine in depth the wage gap between men and women in Cameroon. More specifically, it is a question of:
· Analyzing gender wage differences by targeting a few significant sectors of activity in Cameroon;
· Identifying the factors that explain wage inequalities between men and women in Cameroon;
· Assessing the main aspects of gender discrimination on the functioning of the labor market in Cameroon;
· Examining what the labor code says about the wages paid to women and men in Cameroon and any limits;
· Make actionable recommendations aimed at reducing wage inequalities between men and women in Cameroon.
Expected outcome
The main expected outcome of the event is the conviction of stakeholders of the need to reduce gender wage inequality in Cameroon.
Target Audience
This event is open to policy makers included authorities from the Ministry of Labour and Social Security, women-led organizations, women leaders, youth leaders, civil society's organizations (CSO), financial institution leaders and the general public.