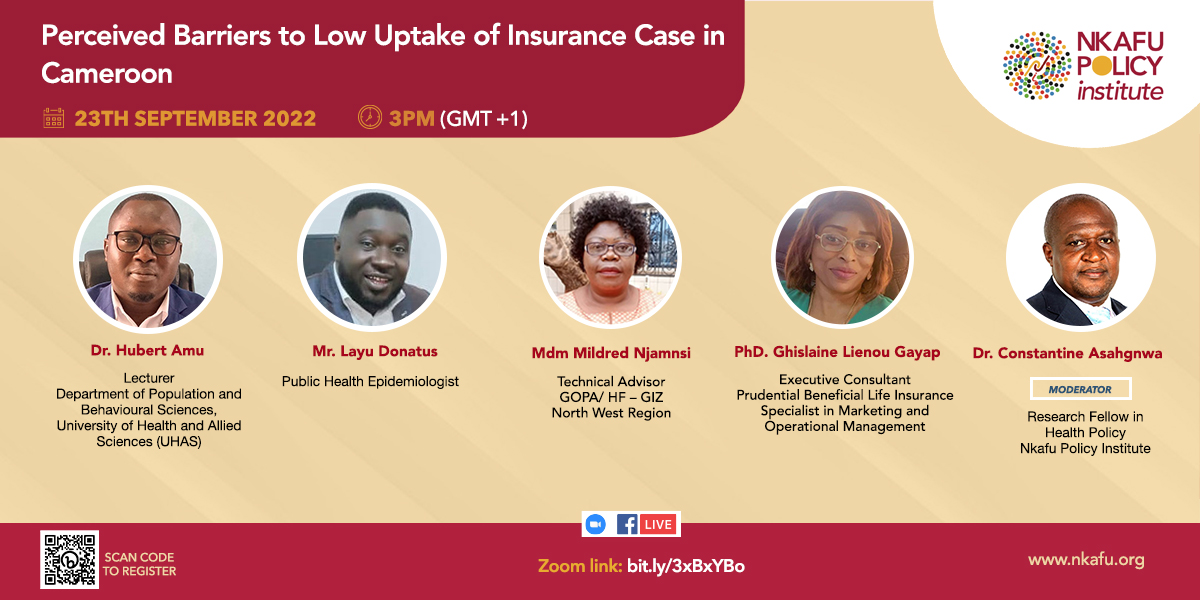 Perceived Barriers to Low Uptake of Insurance Case in Cameroon
Perceived barriers to low uptake of insurance case in Cameroon
September 23, 2022, 3:00 – 4:30pm (Cameroon time) via Zoom Platform >> Register Now
1. Background
Unequal access to quality healthcare in Cameroon has been a challenge since the beginning of time and can be greatly attributed to the high level of poverty and an unequal distribution of wealth in the country. With a population of over 26 million in 2021, over 55% of Cameroonians live in poverty, typically concentrated in rural parts of the North and Eastern region. Insurance within any domain provides financial protection for an individual against unforeseen events. With various Health insurance schemes available in the country, set to help the government improve the wellbeing and comfort of its citizens, a majority of families across the nation, are not subscribed. What measures can be taken to improve subscription of health insurance schemes in Cameroon? What role has the government played in reducing the financial burden of out-of-pocket-spending experienced by Cameroonians? These questions, are amongst a few the Health Policy and Research Division of the Nkafu Policy Institute seeks to answer in this webinar.
2. Objectives
The overall objective is to highlight the barriers hindering access and subscription to health care insurance schemes in Cameroon.
Specifically:
– Review the impact of lack of health insurance uptake in Cameroon.
– To identify the challenges faced by nationals in subscribing to health insurance.
– To investigate the role and the contribution of the government in increasing health insurance access in Cameroon.
– Discuss other possible solutions to overcome barriers to health insurance subscription in Cameroon.
3. Target Audience
The target audience for this webinar includes, civil society organizations, policy makers, private health insurance companies, businesses, health economists, public health researchers and the general public.
4. Expected Outcomes
– Clearly outline the challenges faced by nationals in the insurance subscription.
– Increased awareness of the importance of health insurance subscription