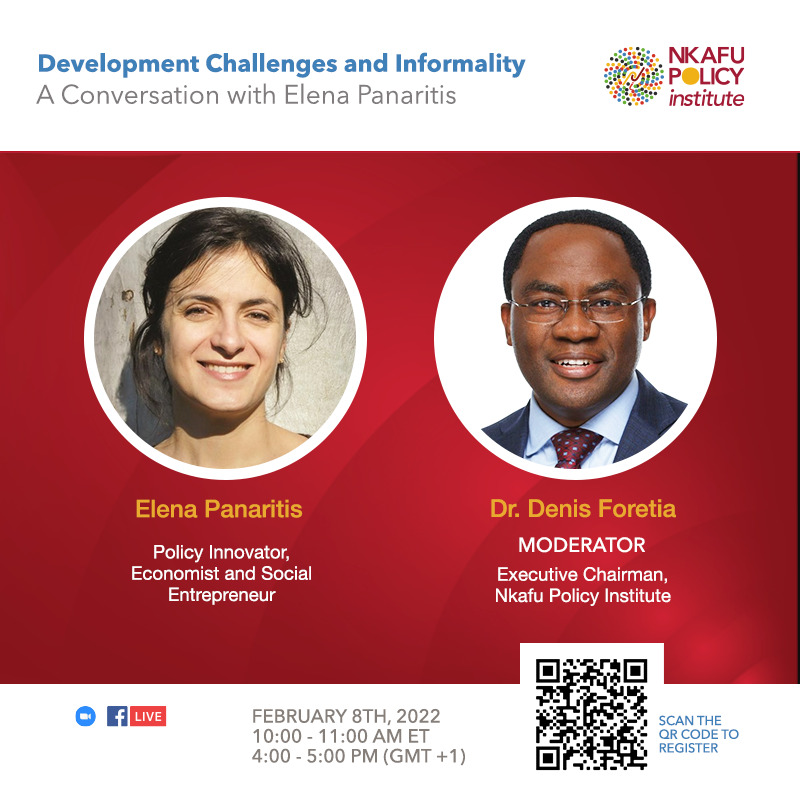 Development Challenges and Informality – A Conversation with Elena Panaritis
10:00 – 11:00 am ET | 4:00 – 5:00 pm Cameroon
1. Contextual Background
Development strides across the world are meant to create wealth that every community can benefit from. This initiative involves everybody both formally and informally. Paradoxically in emerging market and developing economies, a large percentage of workers and firms operate in the informal economy, outside the line of sight of governments. This may hold back the recovery in these economies from the deep recessions caused by different factors. Some of these challenges include the eradication of poverty in all its forms and dimensions; accelerate structural reforms for sustainable development and build resilience to crisis and shocks—unless governments adopt a broad set of policies to address the challenges of widespread informality. In a typical developing country, the informal sector, contributes about 35 percent to GDP, employs around 70 percent of the labour force however, with considerable heterogeneity across regions and countries1. Yet a large number of people and economic activities from this sector do not benefit from appropriate technologies, access to public services, and social protection. With the development challenges faced by world economies, what role can the informal sector play in enhancing development and addressing some of these development challenges?
2. Objectives of the Dialogue
The event's objective is to examine the global developmental challenges and the role of the informal sector in addressing these challenges.
3. Who should participate?
This event will bring together international stakeholders, the public and private sectors, academia, civil society organizations, NGOs, youth leaders, journalists, researchers, the business world and policy makers,
4. Expected output
The expected output will be the production of a comprehensive and incisive evidence-based policy recommendation for stakeholders on the role of the informal sector in addressing the developmental challenges.
5. Organizers:
This event will be organized by the Nkafu Policy Institute – a Think Tank at the Denis and Lenora Foretia Foundation.
Panelist / Moderator
Elena Panaritis
Policy Innovator, Economist, and Social Entrepreneur
Dr. Denis Foretia
Founder & Executive Chairman

–

Denis & Lenora Foretia Foundation