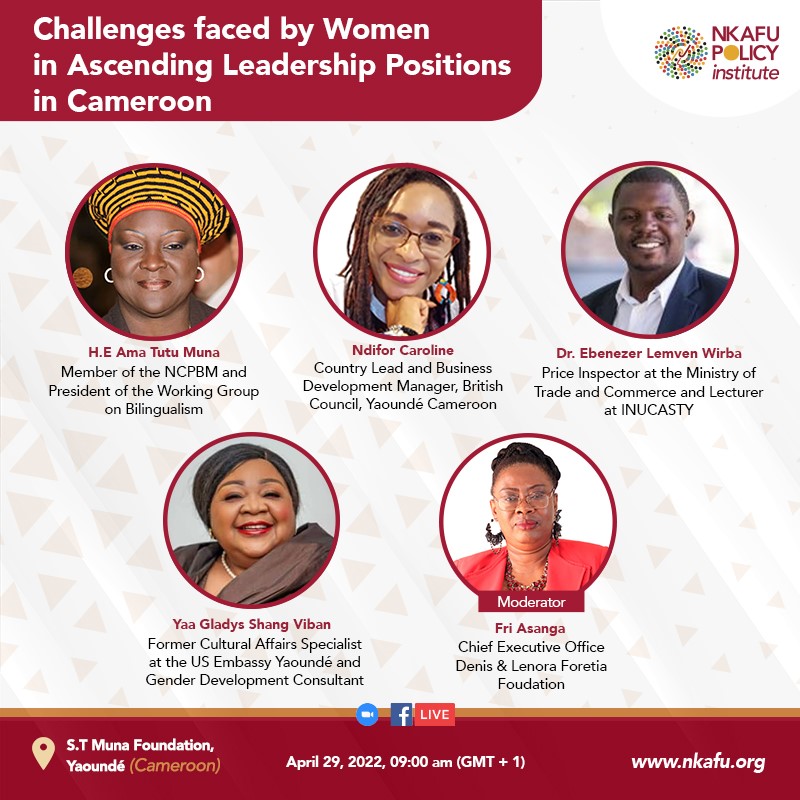 Challenges faced by Women in Ascending Leadership Positions in Cameroon
PROMOTING WOMEN'S ECONOMIC RIGHTS IN CAMEROON (WERC PROJECT)
Theme: "Challenges faced by Women in Ascending Leadership Positions in Cameroon"  
April 29, 2022, 09:00 am (GMT + 1) at S.T Muna Foundation, Yaoundé (Register Now)
Background
In Cameroon, the female labor force available to produce goods and services remains lower than that of men. According to the International Labor Office (ILO), the ratio of female to male labor force participation rate (i.e., the proportion of the female population that is economically active) is estimated at 88.0% (ILO, 2019). Many Cameroonian women hold positions of responsibility in national and international institutions but their economic power remains low, particularly because of their limited access to strategic decision-making positions. Although the representation of women in the national assembly has increased significantly in recent years, from 8.9% in 2007 to 31.1% in 2020, they remain underrepresented in the territorial governance (with only 9% of local councilors), in the government (6%) and in the ministries directly related to the regalian functions of the state (defense, economy, finance, justice, etc.). Therefore, while 39% of the national population lives below the poverty line, this rate rises to 51.5% for women and 79.2% of them are underemployed. Moreover, women's political participation remains lower, with less than 2% of women's political party leaders (UN Women Africa, 2022). Given the need to promote women's economic rights in Cameroon and champion their access to leadership positions, the Nkafu Policy Institute of the Denis & Lenora Foretia Foundation is organizing a panel discussion under the theme "Challenges Faced by Women in Ascending Leadership Positions in Cameroon".
Objective
The main objective of this event is to provide a platform for high-level experts to discuss the need to promote women's access to decision-making positions to achieve sustainable and inclusive economic growth in Cameroon. Specifically, it will:
Map out the women who have marked Cameroon by their leadership over the past decade;
Identify the challenges/discriminations faced by women in accessing leadership positions in Cameroon.
Analyze ways to advance women's leadership in Cameroon (strategies to overcome the challenges faced by women in accessing leadership position in Cameroon).
Propose sound/relevant policy recommendations that could help women attain and retain leadership positions in Cameroon.
Target audience
This event is open to policy makers, women-led organizations, women leaders, youth leaders, and the general public.
Contact
For more information, please write to us at [email protected]  or contact Tel: (+237) 22 31 15 84 / 654 86 72 54 / 698 64 55 24.