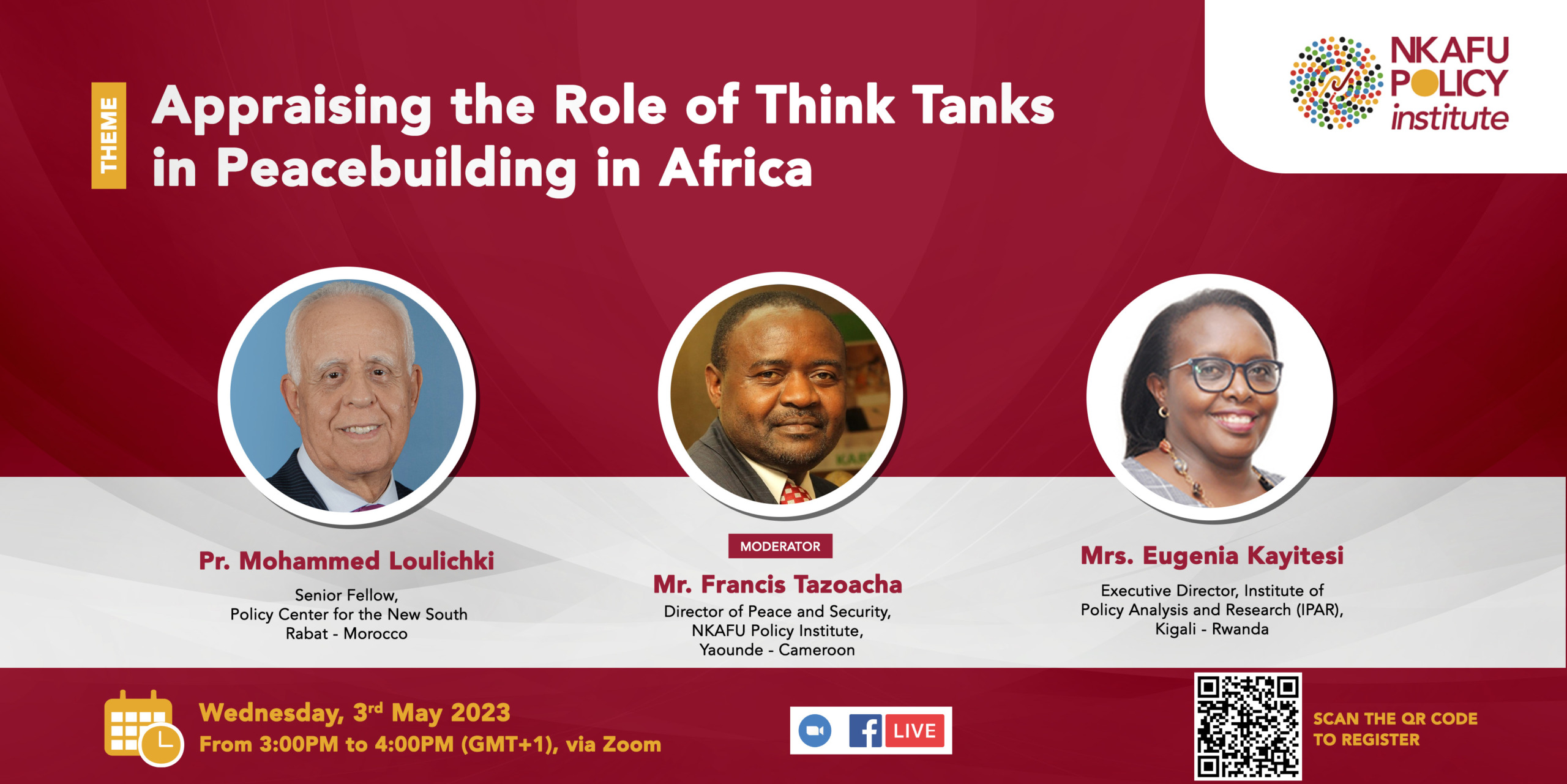 Appraising the Role of Think Tanks in Peacebuilding in Africa
Date: Wednesday, 3rd April 2023 – 03 PM
Online Zoom (Register Now)
Background
Over the years, think tanks have been very instrumental in the process of peacebuilding across Africa. They conduct policy research, analyses and make policy recommendations to policy makers and public opinion on a broad range of issues around peace, security, governance and development.  However, African think tanks face several structural challenges. These include, inter alia, inadequate funding, limited collaboration with the AU and RECs. To address these, on February 08th 2023, the African Union officially launched the Network of African Think Tanks for Peace, with the objective of driving the partnership between African research community and the African Union Political Affairs Peace and Security on governance, peace and security.  It is against this backdrop that the Peace and Security Division of the Nkafu Policy Institute is organizing a webinar to appraise the role of think tanks in the process of peacebuilding in Africa.
Objective of the webinar
The main objective of this webinar is to examine the functions and challenges of think tanks in the process of peacebuilding in Africa.
Target Audience
The event targets peace and security experts, policymakers, government agencies, diplomatic bodies, parastatal, academics, researchers, international organizations, civil society organizations.
Event Format
The event will take place online, via zoom with panel discussions by peace and security experts from selected think tanks and will be streamed live on Foretia Foundation's social media platforms.
Expected output
To produce evidence-based policy recommendations to African policy makers, as well as international foreign policy experts which can strengthen peacebuilding efforts in Africa
Expected Outcome
It is expected that the forum will act as an avenue that provides perspective that will inform stakeholders on the need to appraise the work of think tanks, and address the challenges they face
7. Panellists
Prof  Mohammed Loulichki
Affiliate Professor at Faculté de Gouvernance Sciences Économiques et Sociales
Mohammed VI Polytechnic University
Technopolis, Rocade Rabat-Salé
Francis Tazoacha
Director | Peace & Security Division, NKAFU Policy Institute
Mrs Eugenia Kayitesi
Executive Director, Institute of Policy Analisis and Research (IPAR), Kigali – Rwanda