Theme: Realizing the Potential – Africa's Healthcare Delivery Post-COVID
October 28, 2022

10:00am - 3:30pm GMT+1
About the Nkafu Africa Health Forum (NAHF)
The Nkafu Africa Health Forum offers an exclusive, up-to-date view of the major opportunities and challenges affecting the health sector in Africa. By pooling together the brightest minds from across the continent and associating key governmental and non-governmental stakeholders, the NAHF is poised to make its mark on Africa's drive toward modernization of its health sector and attaining universal health coverage.
The NAHF is an appropriate platform to meet and collaborate with key stakeholders, learn about innovative solutions to sustain global health, and share your research work and innovations.
Certificate of Participation & Attendance
10 CME points to be awarded by NMA NASARAWA State, Nigeria
The Forum is committed to protecting the health and safety of our attendees, presenters, and staff against the COVID-19 pandemic. Therefore, this forum shall be completely virtual. All attendees seeking to attend this forum shall make provision for good internet service.
+250
Senior-level online participants
40%
of participants from policy organizations
+20
High level speakers from public & private sector.
Theme: Realizing the Potential – Africa's Healthcare Delivery Post-COVID
Please click on the button to see the biography of each panelist.
Dr. Denis Foretia
Dr. Denis Foretia is Co-Chair of the Denis & Lenora Foretia Foundation and Executive Chairman of the Nkafu Policy Institute, a leading Cameroonian think tank. Along with co-chair Lenora Ebule, he shapes and approves strategy, advocates for the foundation, and helps set the overall direction. He is also the Chairman of Merckshire LLC, an international holding company with operations in the US and Cameroon. A surgeon by training, Foretia has always been involved in philanthropic activities and issues related to international development. He is currently the President of the Association of Cameroonian Physicians in the Americas (ACPA). He is also the Co-Founder and pioneer president of the Cameroon Professional Society (CPS) – the premier institution for Cameroonian professionals in the US focused on advancing economic opportunity and leadership development among Cameroonians.
Prof. Robert Nantchouang
Prof. Robert Nantchouang carries with him a vast, rich and diversified academic and international career, which has led him from higher education (University professor at the Faculty of Social Sciences and Management of the Catholic University of Central Africa) to capacity development projects management, and knowledge management, within the African Capacity Building Foundation (ACBF), the African Union's Specialized Agency for capacity building, where he served for more than a decade, prior to holding the position of Executive Director of the African Culture Fund (ACF)
Dr. Ronald Gobina
Dr. Ronald Gobina is the Director of the Health Policy and Research Program. He is a Nephrologist, working with the Regional Hospital in Buea. He is Director of the Health Policy and Research Program at the Nkafu Policy Institute and the Director of the COVID-19 taskforce for the DLF foundation. He is member of the Cameroon Society of Nephrology (CASONEPH), the International Society of Nephrology (ISN) and the Initiative to Strengthen Health Research Capacity in Africa (ISHReCA).
He is passionate about sharing knowledge and skills through every means possible. He believes that being a specialist is not about being superior but about being a better coach to advance expertise in any given sphere. As a general practitioner, he initiative several teaching and coaching opportunities including the hospital-based teaching program at the Buea Regional Hospital for practicing nurses, doctors and trainees, and the Renal Summit for the South West Region of Cameroon which saw its maiden edition bring together experts from around the world to capacitate health personnel in the region on renal diseases. A regular choice for health education on radio platforms and with several community events for sensitization and screening organized, his determination continues to be seen in communities.
Dr. Fuein Vera Kum
Dr Fuein Vera Kum is a Research Fellow at the Nkafu Policy Institute. She joined the institute as Economic Policy Analyst in 2017 with a focus on health economics and development policy. She holds a Ph.D in Economics from the University of Benin, Nigeria. She previously worked as a lecturer in economics at several higher institutions of learning in Cameroon.
Dr. Ngo Valery Ngo
Dr. Ngo Valery Ngo is a Medical Doctor and a Senior Health Researcher at Nkafu Policy Institute, a think tank at the Denis & Lenora Foretia Foundation in Yaoundé, Cameroon. Before his appointment, he was a volunteer research assistant under Professor Bright Nwaru at the Krefting Research Centre in Gothenburg, Sweden, during which he conducted various researches in global health and contributed to various systematic reviews to synthesize existing evidence on major global health issues. Between 2012 and 2018, Dr. Ngo worked as a clinician at the Federal Medical Centre (FMC) in Keffi, Nasarawa State, Nigeria, and rose to the position of senior medical officer and chief resident in charge of training. At FMC Keffi, he worked in different clinical departments, including surgery, medicine, pediatrics, obstetrics, gynecology, clinical hematology, accident, and emergency. He also coordinated the HIV/AIDS program at Innovative Biotechnology in Keffi, Nasarawa State, Nigeria.
Dr. Zaharaddeen Babandi
Dr. Zaharaddeen Babandi Is a public health physician with interest in health systems strengthening and maternal and child health. He is consultant public health physician at Ahmadu Bello University Teaching Hospital Zaria. He also serves as a Technical Adviser to the Nigerian National Emergency Maternal and Child Health Intervention Center. He is a member of the Nigerian Institute of Management and a Fellow of the West African College of Physicians and National Post Graduate Medical College of Nigeria. His research focus is on reproductive health and health systems management. He holds masters degrees in Public Health, Health Economics, international affairs and Public policy.
Joseph Maabo Tankwa
Joseph Maabo Tankwa is a Health Economist who has worked with many local and international organizations on high-level projects related to education and health. Before switching to health economics, he was a lecturer and school administrator for more than 15 years in both sub-systems of education (English and French). His penetrating mind allows him not only to grasp the basics of economic theory applied to health, but also to formulate highly original and persuasive interpretative arguments. He has demonstrated superb leadership and organizational skills in leading group projects and has a mastery of MS Excel based tool development and data visualization. With a sound knowledge of Strategic Health Purchasing arrangements, he is currently co-writing articles, blogs and policy briefs on the topic. He was privileged to participate in the Crowdsourcing Responses for FAQs in relation to COVID-19 organized by the Strategic Purchasing Africa Resource Center (SPARC) amongst others. When he is not glued to his computer, he spends some time trying very hard not to be the worse dancer on earth as declared by his friends.
Dr. Zakariaou Njoumeni
Dr Zakariaou NJOUMEMI is a senior health economist specializing in health financing, public
finance management, universal health coverage, monitoring and evaluation of public health programme. He holds a PhD in Public Health, specialization 'Health Economics', from the School of Public Health and Family Medicine, University of Cape Town, South Africa. He is senior lecturer/researcher in public health evaluation, health economics, health policy and health systems, health care financing and management at the Department of Public Health, Faculty of Medicine and Biomedical Sciences, University of Yaoundé I. He is also the Team Leader at Health Economics & Policy Research and Evaluation for Development Results Group (HEREG), Yaoundé, Cameroon.
Prof. Nia Zalamea, MD
Nia Zalamea, MD is a board-certified general surgeon at Regional One Health. She earned her medical degree at East Tennessee State University in Johnson City and completed an internship and residency in general surgery at Santa Barbara Cottage Hospital in California.
Dr. Zalamea has been in practice since 2009 and has earned numerous honors for the level of care she provides patients. She is a recipient of the Leonard Tow Humanism in Medicine Award and has been nominated for the Memphis Business Journal Health Care Heroes Award and the Pfizer/American College of Surgeons Surgical Humanitarian Award.
She is a member of the American College of Surgeons, Association of Academic Surgeons, and Society of American Gastrointestinal and Endoscopic Surgeons.She serves as director of the UTHSC Global Surgery Institute, which provides opportunities for global surgical experience in countries including Tanzania, Cameroon, Philippines, Ecuador, Libya, Iran, Iraq, Russia and Honduras. She is also cofounder of the Center for Multicultural and Global Health at UTHSC, which promotes multicultural health delivery, addresses global health challenges, and nurtures the next generation of global health leaders.
Dr. George Alemnji
George Alemnji (Ph.D., MPH) is a Chemical Pathologist with vast experience in Global Public Health Laboratory services and systems strengthening. He currently serves as Senior Technical Advisor for Laboratory Services at the State Department Office of Global AIDS Coordinator and Health Diplomacy (SGAC), Washington, DC, coordinating all PEPFAR laboratory programs globally. He is also Health Scientist with the United States Centers for Disease Control and Prevention (CDC), Atlanta, USA as well as PEPFAR Chair for South Sudan. Before then he has occupied the following positions: Associate Director for Science and Laboratory Advisor for the CDC Caribbean Regional Office, acting Regional Director for the CDC Caribbean Regional Office,  Laboratory Director, NIH (DAIDS) (HPTN, AACTG, IMPAACT, MTN) Harare, Zimbabwe HIV Network clinical trial site; first Country Head CDC Cameroon, Laboratory Branch Chief CDC Cameroon; Senior lecturer in Chemical Pathology, Faculty of Medicine, University of Yaoundé, Cameroon; and consultant in global clinical and public health laboratory services and systems strengthening to many international organizations. He has authored or co-authored over 48 scientific publications.
Chesie Voma, PhD, NRCC, MT(ASCP)
Dr. Chesie Voma is a CLIA laboratory director who works with a transfusion medicine lab to ensure the quality of results released from testing of regulated biological products, reference testing, whole blood and plasma donor screening and infectious disease testing. She also directs a covid-19 laboratory of a community hospital.
After spending years going through the ranks in laboratory medicine from a certified phlebotomist to a medical technologist and currently a clinical lab director in different laboratory settings, Chesie believes laboratory medicine is a key contributor in
predictive risk management, preventative health and integration of clinical care through synthesis of relevant lab data that are too often under-used, under-recognized or even missing.
Chesie has an array of experience in collecting quality samples for lab testing, interpreting unusual lab results, and consulting issues related to discordant and discrepant lab results. She has given oral presentations at scientific conferences, participated and won scientific research awards, authored and co-authored book chapters, articles, and abstracts while mentoring aspiring laboratorians at different levels of their career. Most recently, Chesie was runner up as Mentor of the year in the 2020 Global Awards. Chesie has been a guest speaker in several panel discussions on how healthcare can be improved to meet the needs of the underprivileged individuals in underserved communities.
Her interest in predictive risk management and preventative health led her to start a mobile bloodwork and lab services company, Lab2Doctors Xpress (L2DocX), with the goal of providing an affordable opportunity for anyone 18 and older to monitor their health through periodic lab testing and know when it is appropriate to seek the consult of a clinician timely enough before an acute health crisis becomes chronic.
Chesie holds a Doctor of Philosophy degree in bioanalytical and clinical chemistry from Cleveland State University with dissertation research from Case Western Reserve
University, and clinical pathology fellowship from the university of Louisville school of medicine.
Dr. Asahngwa Constantine
Dr. Asahngwa Constantine holds a PhD in Medical Anthropology from the University of Yaounde 1, Yaounde, Cameroon. He obtained his Master's Degree in Medical Anthropology and Bachelor's Degree in Anthropology both from the University of Yaounde 1, Cameroon. He has served as Director for the Cameroon Center for Evidence Based Health Care for 10 years as an evidence synthesis, translation and utilization expert. He has also served as a Senior Adjunct Lecturer at the School of Public Health, Faculty of Health Sciences, University of Adelaide, South Australia for 10 years, His research areas are in health policy, health systems, infectious diseases and reproductive health.
Irene Dzirasa
Irene Dzirasa is a Public Health Expert with background in Nutrition and Sexual and Reproductive Health. She has a master's degree in International Public health from the Liverpool School of Tropical Medicine.
She worked with the Ghana Health Service for Eight (8) years where she served as a Senior Nutrition Officer, Community-based Health Planning and Services Coordinator and a Quality Improvement Coach. She is a Chevening Alumni.
She currently works as a Health Policy and Advocacy Associate at Operation Smile where she supports Ministries of health, partner countries and other stakeholders to increase the prioritization of surgical care through NSOAP development, implementation and evaluation and grassroot advocacy.
Dr. Sabo Emmanuel
Dr. Sabo Emmanuel is a consultant Family Physician with the federal medical Centre Keffi, Nasarawa State, Nigeria, where he doubles as the assistant coordinator of the National Health insurance Scheme. He graduated from Ahmadu Bello University with a Bachelor of Medicine and Bachelor of Surgery degree (MBBS). Dr Sabo has over ten years of experience using various digital health technological tools, including electronic medical records, to manage patients. Dr Sabo Emmanuel is a trained University of Washington Global Health expert in leadership and management in health, healthcare financing, Health Economics and Policy. He is also a CDC-trained Clinical Mentor and a fellow of the National Postgraduate Medical College of Nigeria. Dr Sabo is the immediate past Chairman Nigeria Medical Association (NMA) Nasarawa state branch. He has numerous scholarly articles published in high-impact journals and also peer-review for various international journals.
Dr. Stanley Aruyaru
With 11+ years of experience in the Kenyan Healthcare Space, Dr Aruyaru is an internationally recognized surgeon, a public speaker and an award winning healthcare leader. He is an influencer on surgery and health in the Kenyan health space and regionally.
Dr Aruyaru is passionate about advocacy for effective and responsive quality health care delivery systems. His advocacy stories can be found across newspaper articles, podcasts, radio and TV talks besides his social media handles. His YouTube Channel "Something About Surgery" discusses surgical topics of interest to the lay people. His first book "The Chronicles of a Village Surgeon" documents the memoirs of a dedicated surgeon in rural Kenya.
In 2021, Dr Aruyaru was among the winners of Business Daily's Top 40 Under 40 Men in Kenya, an Award that recognizes young people making significant impact in various spheres of life in Kenya.
Dr Aruyaru serves as the Director of Medical Services at St Theresa Mission Hospital and the Chair of the Scientific Committee of the Surgical Society of Kenya. He is a member of numerous international professional bodies and a Global Surgery doctoral scholar.
Besides health, Dr Aruyaru is an award winning public speaker, a youth mentor and an advocate for charity work in health and Education. He serves in boards of various public and non-profit organisations and institutions.
Dr. Jonathan Ajah
Jonathan Ajah MBBS,MPH,MSc,MWACS,FHEA,MRCS(A) is a surgeon, Lecturer & Module Lead in Clinical skills at The University of Central Lancashire in the UK.Dr. Ajah is a medical graduate (MBBS) from Ahmadu Bello University Zaria Nigeria (2011). His expertise covers Global health and global surgery, humanitarian medicine, clinical research, and medical education. A trained surgeon with primary Fellowship & Membership in Surgery of the West African College of Surgeons (2015 & 2021), Membership( PartA) of the Royal College of Surgeons of England (2022), Elected member of the American College of Surgeons(2019) & International Society of Orthopaedics and Traumatology, Europe(2016), He holds Masters in Public Health (MPH) from the University of Manchester England(2018) and MSc in surgical sciences from the University of Edinburgh in Scotalnd (2020), Humanitarian medicine Certification (2019) from Medicins Sans Frontieres ( Doctors without borders ), eligibility for the Diploma in Tropical Medicine & Hygiene of the Royal College of Physicians of London, medical educationist fellowship of the UK Higher Education Academy (2020) and Recognized Medical Teacher Status by the University of Southwales UK(2017).
Dr. Ajah has won 2 commonwealth scholarships, 1 MPACT scholarship, and 1 GAP Summit scholarship all totaling over £41000 (approx $50000) in the last 6 years. He has over 4years of contribution to science as a peer reviewer for Springer USA BMC Human Resources for Health journal and has well-developed expertise to undertake research/knowledge transfer as well as the ability to work on his own initiative and as part of a team. Publishes in peer review journals and presents regularly in conferences around the UK and the world see his orcid profile https://orcid.org/0000-0002-7353-6725
He is Principal Investigator ''Assessing the early impact of integrated clinical skills teaching model LASER( Lectures Aided Simulated & supervised practice backed by Effective feedback & learner's Reflection) via online anonymized questionnaire 2021-date'' University of Central Lancashire UK and
Lead Innovator ''PEOPLE: Physician LEd Open access Primary Long lasting Health Care Everywhere in Nigeria and West Africa for $2 per month per Adult or 3-5% family income'' concept presented on the 4th May 2022 at the Forum of International Challenges University Birmingham, UK.
He looks forward to a fruitful engagement at the 2022 Nkafu African Health Forum
Dr. Mokake Martin
Dr. N.D. Martin Mokake is a Consultant General Surgeon with vast experience in tropical surgery, Director of the Buea Regional Hospital and Senior Lecturer in the Department of Surgery and Specialties Faculty of Health Sciences, University of Buea. He is also the country representative of the (MASHAV) Israeli Foreign Ministry program on emergency and first aid training in Africa. Member of the National trainers on ATLS, ACLS, Medical Regulation and First aid. Member of the Regional Blood transfusion and Medical Evacuation Committees. Rapporteur of the Regional Scientific Committee for the South west. He is a researcher with about 25 Publications in and out of Surgery. He is also a Community developer and an Entrepreneur.
Dr. Miriam Nkangu
Miriam Nkangu Nguilefem
Donald Weledji
Donald Weledji is an Information Technology Expert with over 20 years of experience. Donald is very passionate about open-source projects and their adaptions to the realities of developing countries. He firmly believes that software should be adapted to the specificities of the area where it is to be used. He specializes in designing and implementing IT systems based on open-source technologies. Donald Weledji enjoys writing code using Java, PhP and Javascript-related programming languages. He is the Lead developer of the BornFyne Prenatal Management System, a two-way digital health application used to improve Reproductive, Maternal, Newborn and Child Health in Cameroon and sub-Sahara Africa. Donald also has many other giant innovative digital health projects under his portfolio. He is currently the Founder and Chief Technology Officer (CTO) of Donwel Systems, Belgium. Donald holds a Master of Software and Internet Technology Degree from the IT University of Copenhagen, Denmark.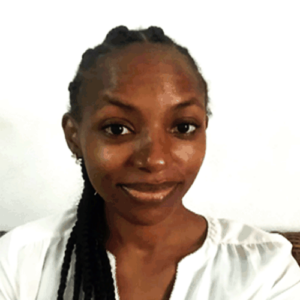 Dr. Oben Pamela Ayuk
Dr. Oben Pamela Ayuk, is the team leader and coordinator of the Expanded Program on Immunization (EPI) in Buea. She has previously worked as a pharmacist and the Assistant Coordinator of the HIV/AIDs Care and Treatment Centre of the Limbe Regional Hospital. Her coordination involves supervising the management of almost 4000 clients placed on antiretroviral therapy.
Dr. Odette Kibu
Dr. Odette Kibu is a Senior Health Policy Analyst at the Nkafu Policy Institute and PhD holder in Public Health at the University of Buea. She hold a Masters Degree in Chemical Pathology and a Bachelors Degree (Hons) in Biochemistry also from the University of Buea. Prior to joining the Foundation Ms. Kibu was a Research Assistant in Public Health at the University of Buea under the supervision of Prof. Dickson Shey Nsagha. She also previously worked at the Clinton Health Access Initiative.
Researchers

Public health epidemiologists

Clinicians and surgeons
Policymakers

Civil society organizations

The public
10:00 am – 10:10 am GMT+1

Plenary:

Revisiting healthcare delivery in post covid Era: Focus on Africa

Dr. George Alemnji

Dr. Pamela Oben

Dr. Chesie Voma





Dr. Gobina Ronald

Dr. Denis Foretia

11:20 am – 11:30 am GMT+1

Session 2:

Health care financing towards greater health equity in Africa

Dr. Zakariaou Njoumemi


Joseph Maabo Tankwa




Dr. Zaharaddeen Babandi


Prof. Robert Nantchouang


Session 3:

Challenges in Optimizing Surgical care in Africa: Way forward

Prof. Nia Zalamea


Dr. Mokake Martin


Dr Stanley Aruyaru


Dr. Jonathan Ajah



Mrs Irene Dzirasa


Session 4:

Digitalizing health care systems in Africa: what works?

Ms. Miriam Nkangu




Dr. Sabo Emmanuel



Donald Weledji

Dr. Valery Ngo

Keynote:

The Future of Health Care in Africa