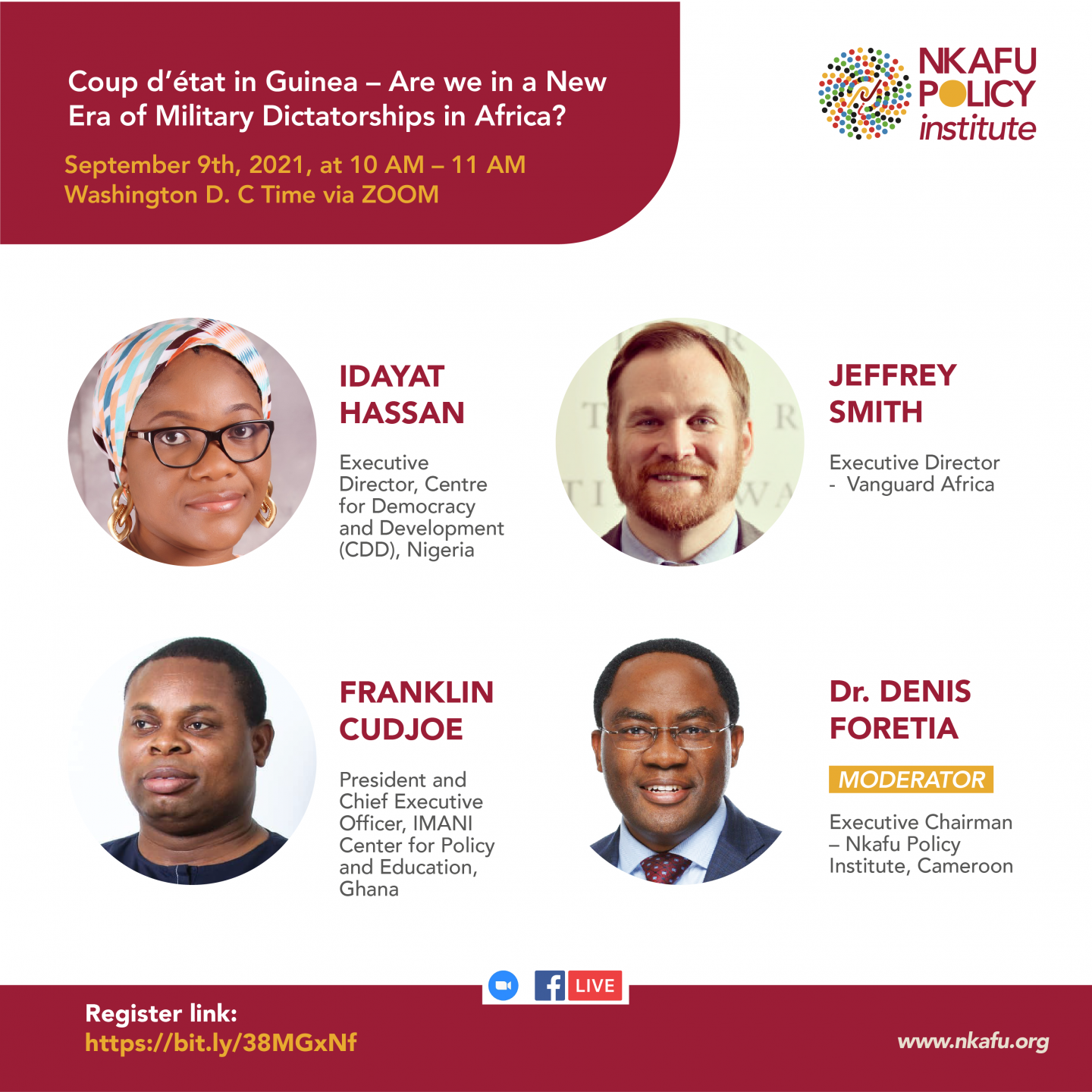 Coup d'état in Guinea – Are we in a New Era of Military Dictatorships in Africa?
September 9th, 2021, at 10 AM – 11 AM Washington D. C Time via ZOOM
---
1. Context
Military takeovers in Africa are becoming unprecedented after the euphoria and embrace of democracy in the early 90s. Since the years of independence, Africa has experienced more than 200 military coups, counting both successful and failed coup attempts. The political and economic conditions prevailing in different African countries and the foreign influences at work have all played a part in fuelling conflicts and coups in the region. The destabilizing factors have been many and varied, depending on the national context: warring factions seeking to gain power in the aftermath of independence; established and stable states burdened by poor quality of governance and by corrupt officials; autocratic regimes repressing any form of opposition but with socio-political discontent and instability seething below the surface.
Guinea has not been an exception. After many decades of authoritarian rule, Alpha Condé was the country's first democratically elected leader. During his time in office, Guinea used its rich natural resources to improve the economy, but the bulk of the country's population has not felt its effects. In 2020, Condé changed the constitution by referendum to allow himself to secure a third term, but with controversy. During his rule, Condé cracked down on protests as well as opposition candidates, some of whom were retained in prison, while the government struggled to contain price increases in basic commodities. In August 2021, in an attempt to balance the budget, Guinea announced tax hikes while slashing spending on the police and the military, but increased funding for the office of the President and National Assembly. The coup began in the morning of September 5, 2021, when the Republic of Guinea Armed Forces surrounded Sekhoutoureah Presidential Palace and cordoned off the wider government district.
2. Objectives of the Dialogue
The objective of this panel is to analyse the military takeover in Guinea and its impact on democracy and governance in West Africa and the continent as a whole.
3. Who should participate?
This event is open to experts in peace and security, governance and democracy, stakeholders and the general public across Africa and beyond.
4. Expected Output
Evidenced-based policy recommendations that could inform actions of national, regional and international stakeholders especially ECOWAS and the AU's Africa Peace Security Architecture.